Advanced Futures Trading
Educational resources provided to assist advanced futures traders improve their commodities trading techniques and styles
Use the navigation panel to the right to jump ahead to a particular section. If you have any questions after reading this commodities trading educational material, or about anything included in here, don't hesitate to call us at (800) 454-9572 U.S. or (310) 859-9572 International.
Live Futures Day Trading Webinar
A periodic live futures trading webinar during which the host shares: his approach to day trading futures, strategies that can be applied to the E Mini S&P 500, crude oil futures, Euro currency, and other futures markets, and day trading futures technical indicators reviews - all live.
Visit the cannon futures trading webinar to sign up and you will get an alert with your login and password that will allow you to attend the next online event. Please note, a valid email address and phone number are required. We recommend you sign up soon, the live sessions are popular events in the futures trading industry so be sure to reserve your seat.
Below is a screenshot from one of Ilan's live day trading futures webinar sessions with trading signals (red means buy, blue means sell), suggested exits (blue x means exit for short, red x means exit for long).
Ilan uses futures trading indicators similar to RSI (relative strength indicator), MACD, and incorporates these indicators along with the use of volume charts to provide a different visual tool for day trading different futures contracts.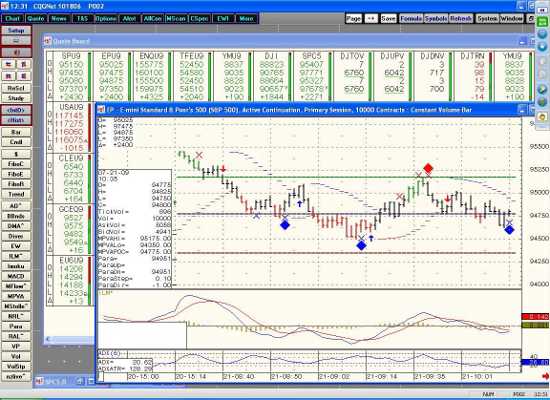 Trading commodity futures and options involves substantial risk of loss. The recommendations contained are of opinion only and do not guarantee any profits. These are risky markets and only risk capital should be used. Past performances are not necessarily indicative of future results. This is not a solicitation of any order to buy or sell, but a current futures market view. Any statement of facts herein contained are derived from sources believed to be reliable, but are not guaranteed as to accuracy, nor they purport to be complete. No responsibility is assumed with respect to any such statement or with respect to any expression of opinion herein contained. Readers are urged to exercise their own judgment in trading!